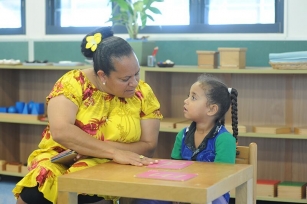 Montessori Children's Foundation (MCF)
The Montessori Children's Foundation's goal is to make Montessori programmes available to children in Australia, who, for a multitude of reasons, would not otherwise be able to access them. MCF currently focuses on Indigenous and remote communities where the need for quality education and support is intensified by vast distances from the centres of Australian government decision-making, service-delivery and economic activity, and by histories of invasion, appropriation, and neglect. Despite this, in these communities there is a strong desire for a better future, and a deep awareness that the future lies with its children. MCF's core area of business is early childhood and this is underpinned by four key principles Partnership, Sustainability, Quality and Flexibility.
Their mission is to enhance the dignity and quality of life for indigenous children by inspiring families to provide an ethical framework and a trusted environment that fosters independence, self-reliance and a love of learning and exploring.
Current projects include fundraising for the following community projects:
Training and supporting Indigenous facilitators
Community engagement
Raising Happy Kids program - Cairns
Research
Visit their website for details https://mcf.ngo/