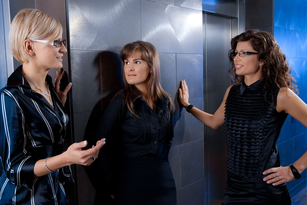 We've all had it happen. You're in a conversation with a neighbour, co-worker or stranger and they ask you  about  your  line  of  work  or  where  your  children  go  to  school.  You  mention  something  about Montessori school and then wait. Inevitably it comes: "So what is Montessori anyway?"
You give your best answer off the top of your head, trying to remember what you wished you had said the last time someone asked this. You make a few good points, the conversation continues for a while, and  then  you  eventually  say  goodbyes.  However,  for  the  rest  of  the  day  you  kick  yourself  for  not delivering a brilliant and illuminating pitch for Montessori. You should have mentioned the three-hour work period! You should have said something about hands-on learning! Or a story about a child you saw? What about the large bead frame? The geometric solids? The peace table!
Here is your chance: the Montessori Australia Elevator Speech Contest at the Montessori Together Conference, 2-3 October 2021. This is your opportunity to craft the response you've always wanted to say. Make it personal. Make it meaningful. Make it 60 seconds or less. Ask your students to make one!
Submit a video of your Elevator Speech to [email protected]. If needed, we will send you a link to a DropBox folder for easy transfer of the file. Send more than one entry if you wish!
All of the videos submitted, along with a few samples by well-known Montessorians, will be viewable on the Montessori Australia Elevator Speech Contest YouTube channel here.
All submissions for the contest must be received by 20 September 2021. Please keep in mind:
Your video must be 60 seconds or less.
You  must  attend  Montessori  Together  conference  to  collect  any  prizes,  but  anyone  can  submit entries for the contest. Prizes for the winning submissions are being provided by Nienhuis, A2Z Montessori, Montessori Math Cards and more to come.
Your video should answer the question "What is Montessori?" or "Why Montessori?"
Rules can be changed at the whim of contest organisers, for the fun of it.
Videos received are the property of Montessori Australia. We reserve the right to edit submissions.
We may modify them or use them in a montage or for other purposes. We may allow others to use them for Montessori advocacy purposes.
Watch Trevor Eissler, author of Montessori Madness, give guidance about the biggest mistake many people make when trying to do an Elevator Speech here.
Watch the first submission from Roelie Hartwig here.
Send in yours now!  Three prizes valued at $500 each to win!