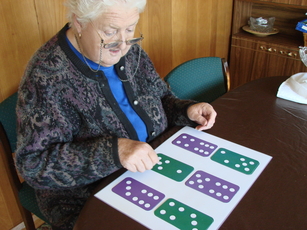 Montessori Adult & Aging Support Services
The Montessori approach for Dementia, Ageing & Adult Care provides enriched environments for older people receiving care services. It promotes independence, self-esteem, choice and meaningful activity through the recognition of individual strengths, needs, interests and the establishment of expertly prepared environments.
Proven outcomes of Montessori environments are reduction in Behavioural and Psychological Symptoms of Dementia (BPSD), reduction in the use of psychotropic medication, improved resident, family and staff satisfaction, and prevention of excess disability.
Montessori Consulting
Montessori Consulting is a Montessori for Dementia & Ageing consulting and training provider that offer a range of face-to-face and online training, as well as custom consulting services depending on the requirements and goals of the organisation. Anne Kelly combines the Montessori philosophy with over 35 years of experience in the industry to fundamentally change the way we provide support and care to others. 
Contact Montessori Consulting to discuss how to enable people to live meaningful and engaged lives with dignity.
W: https://montessoriconsulting.com.au
M: 0418 526 808