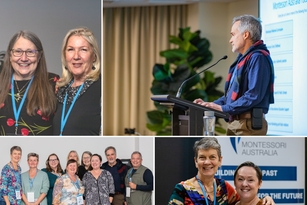 Contacting a Montessori School or Centre
All Montessori schools/centres are independently owned and operated so you would need to contact them directly about their programmes, fees and enrolments. 
To contact a Montessori school or centre, see their details listed in our:  
Contacting Montessori Australia
Montessori Australia Group Pty Ltd (Montessori Australia) ABN 29 637 876 192 
Under licence for Montessori Australia Organisation Limited (NFP) ABN 76 649 344 356 
Address: Address:  5/50 Gateway Drive, Noosaville QLD 4566
Office:  +61 (0)2 9986 2282 (Open: Monday - Thursday). Office staffed part-time, please leave a voice message and your call will be returned. 
Shop: [email protected] or 1300 723 725
Visit our Preferred Vendors:
Montessori materials, classroom furniture, educational toys, music, art and resources | Frederic Froebel, Rudolf Steiner and Reggio Emillia inspired products | Aged care & dementia support products.
Australian Montessori Training Institute (AMTI) offers both online and classroom based Montessori training courses.